WELCOME TO
FANNING EXCAVATING
Solid Ground for Your Projects Since 1946
If you're looking for a reliable, trustworthy, and efficient commercial and residential construction company, look no further than Fanning Excavating Inc.
For three generations, Fanning Excavating Inc has provided construction site preparation, sewer and water lateral repairs and installation, POWTS evaluation services for sale of property, septic system design, installation and pumping. Small or large project, we provide specialized services.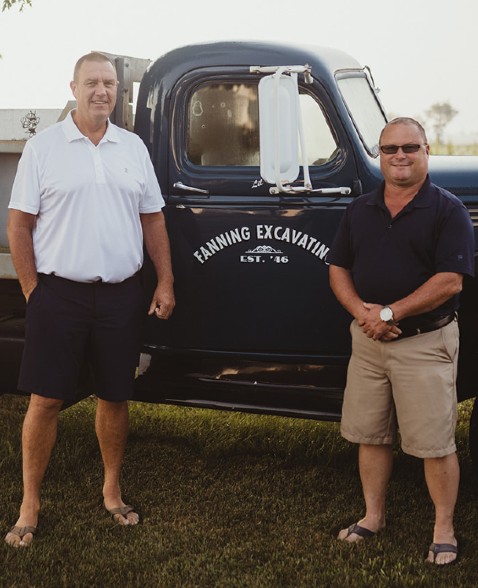 Fanning is here to handle all of your excavation and underground utility needs.
Efficient. Reliable. Exceptional.
Any and all needs for moving dirt on residential or small commercial lots. Fanning Excavating also delivers and places black dirt, fill, and road rock.
Experience. Details. Knowledge.
Also known as POWTS(private onsite wastewater treatment systems), Fanning Excavating has been installing POWTS for over 70 years. No site is too difficult. No installation is too tough. Between the 3 generations, there have been thousands of POWTS installed over the years.
Emergency. Maintenance. Evaluation
For commercial sites and residential sites, Fanning Excavating installs sanitary sewer laterals, domestic water laterals, fire protection laterals, and all facets of stormwater management.
Efficient. Reliable. Exceptional.
Fanning Excavating performs all maintenance work for the POWTS. This includes routine and emergency pumping services of septic tanks and holding tanks, pump and float replacement in dose tanks,
Experience. Details. Knowledge.
Fanning Excavating has its own in-house designer with over 40 years of experience. From the site and soil evaluation to the design of the POWTS, no site is too difficult to match with the correct POWTS.
Emergency. Maintenance. Evaluation
Fanning Excavating does POWTS evaluations for home sales. This is a comprehensive evaluation that leaves no stone unturned. Whether you are selling or purchasing, let Fanning give you a clear picture of what condition
2930 N Harmony Townhall Rd
Janesville WI 53546
Monday - Thursday: 7:00 a.m. to 4:00 p.m.
Friday: 7:00 a.m. to 3:00 p.m.
Closed Saturday, Sunday, and holidays